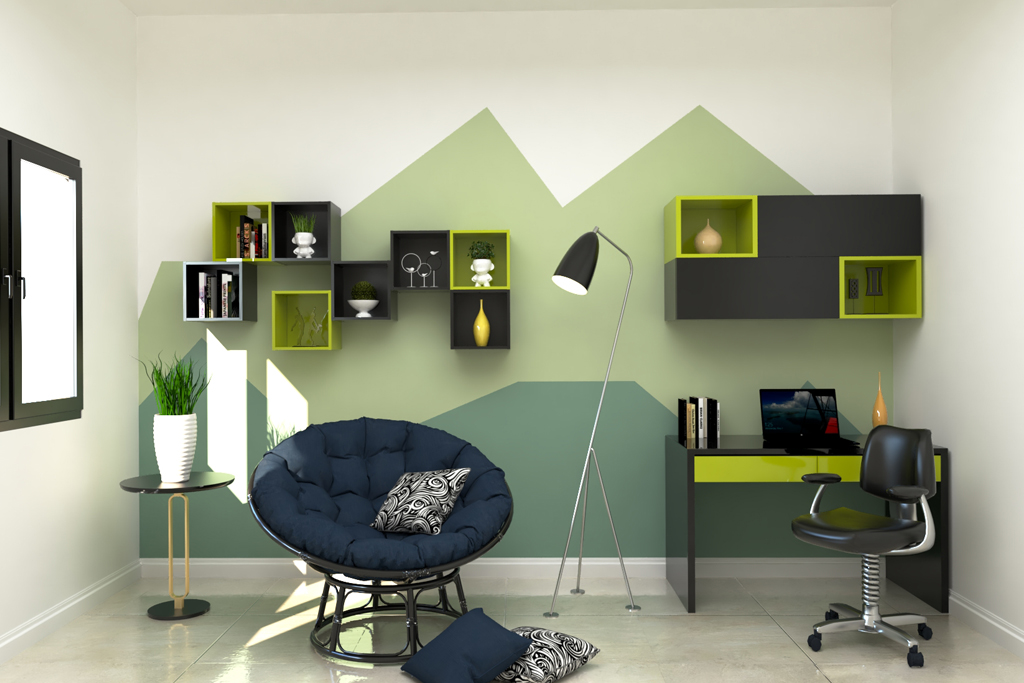 That One Room
A home usually has bedrooms, a kitchen, and a living room. Some may include a dining hall, a guest room, a study room, or the like. A home interior in Chennai includes decor only for these established layouts, but what if you had some extra space? Well, we are here to break boundaries, and maybe even some walls!
Even with a little extra space in your home, you could dynamically change the way your home looks and feels. So if you have some space in your home, and are wondering what to do with it… well we have an answer that might inspire you!
The Close Corners
A corner space is perhaps the most undervalued part of a home interior in Chennai. A corner space offers several opportunities to dynamically change your interiors. A corner stand is what usually people would go for, but how about trying the following options,
Corner Art
An artwork or decal that goes across the wall corner adds an eccentric vibe to the place.
Corner Showpieces
Several decor pieces come modified for corner spaces, and add a sense of continuity in your interiors.
Corner Furniture
Turn your corners into your private space. Add tables for plants, or a regular table and chair for you to sit and journal. Truly the options are endless.
The Bare Wall
Have a large wall in your home that is just bare? Well this is the perfect lace to show your artistic side,
Wall Decal or Art
Turn your wall into a canvas and paint your thoughts. From readymade decals to customised artwork, your bare wall can soon become a statement in your home.
Wall Fittings
Several wall decor options exist like, floating shelves, frame collages, and more. With just a few nails, your wall could soon boast your true taste. Change your entire wall into a showcase of you and your family, or even hang film/sports poster collages.
The Extra Room
Have an entire room in your apartment/home that you barely use? Turn this into a space just for you or for you and your friends,
Party Room
Want to limit the party mess into one room, a disco ball and some speakers with accentuating decor is all you need to turn a bare room into the hangout place of your dream.
Open Terrace
Need some outdoorsy space in your home, a bare room could soon become an open terrace where you can lounge, or a place for your plants.
The Indoor Garden
With several plants flourishing indoors, an indoor garden is a good place for you to just sit and relax, be one with nature, all inside your home.
The Studio Room
Have a hobby you have always been thinking of starting, or one you would like to work on? A studio room is just the encouragement you need to get your creative juices flowing. Turn your bare room into an art studio, or a writing room, or even a dance or music room with just a few changes.
The Theatre/TV Room
This one is a no-brainer. Choose a wall and get a projector, and your theatre/TV room is ready.Add a few decor pieces, seating, and speakers, and this will be the perfect hangout for movie nights or to catch the big game.
No space is wasted when you have so many choices for an interior in Chennai. With just a few changes and adjustments, your home could become the place you have always dreamed of. Have some extra space? Well, don't let it go to waste!